Real St Lucia Tours offers the optimum Shore Excursions and Shore Trips for the Cruise Ship Market. Whilst our mission is to assist you plan your day in St. Lucia, Saint Lucia, however, our focal point is in offering solely specialized Cruise Excursions that are not usually offered by the Cruise Lines and less expensive.


Our services comprises of island tours, Snorkeling Excursions, hiking, Piton climbing, Scuba Diving, Kayak Snorkeling Tours, Island Snorkeling Tours and more. All of our tours in St. Lucia have been conceptualize with you in mind, with the view of giving you more value for your money.

In case you realized that Real St Lucia Tours does not cater for your needs, feel free to contact us and we will be more than delighted to help you in any way possible by putting a tour package together for your family and friends whom I can assure you without a shadow of a doubt will be most memorable.

Real St Lucia Tours, located in St Lucia is one of the best tour companies in the Caribbean. We have been arranging tours/excursions & airport transfers for visitors from all over the world for over ………..years.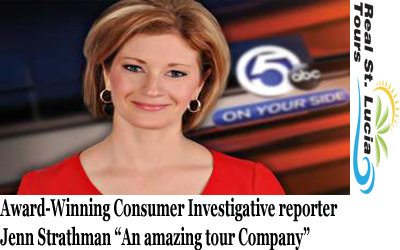 Although our prime concern is to the cruise ship industry, Real St Lucia Tours also caters for the overnight visitors as well. With a diversity of different tours covering the island of St. Lucia, no one is left out. To alert your fears, just let me inform you that our shore excursions are secure, reliable and pleasurable and our ground transportation is made available by the finest drivers.

All our boat captains are fully coast guard certified and our tour operations are covered by a comprehensive insurance plan. Our safety record is exceptional and it is our number one priority.

Real St Lucia Tours can help Caribbean Travel professionals, Meeting and Incentive planner, the Cruise Line industry and individual travelers with a multitude of shore excursions packages. See the link for details of the tours we offer. Travel Professionals are invited to contact us via e-mail so we can serve them expeditiously.

Leaving Castries port via tour boat to Soufriere, known as the attraction capital, will land you to the most charming town of St. Lucia, where you will board a covered safari bus for a picturesque drive around this gorgeous island. En route, your driver/guide will supply you with as much information as you can assimilate about St. Lucia's rich history, lush, tropical flora and its native wildlife. In addition you will see the white-sand beaches and views of the iconic pitons in Soufriere.

You will also have the opportunity to see remains from one of the last working plantations found in St Lucia. Back along the coast, stops will be made at scenic sites such as The Botanical Gardens, Toraille Waterfall, Marigot Bay and Soufriere. There you will have the opportunity to take as many photos as possible to bring back home to your friends to show-off the gorgeous views, and hope that it will persuade them in taking a trip as well. The tour will end at the port, in the picturesque capital of Castries where you will e return to your ship.

If you are contemplating a cruise to St. Lucia, Real St Lucia Tours are the experts that can help you explore the island, a "real paradise", to the fullest. They can get you fun and exciting tours, activities, and services planned around you and your cruise ship schedule. Our staff at Real St Lucia Tours will pick you up direct from your wharf, take you on our excursions, and return you well ahead of your sailing time.

Our shore excursions feature are similar popular destinations offered by your cruise ship, except with Real St Lucia Tours you will definitely save money because our tours are offered at a great value. We also offer a Rent-a-Car Service just in case you want to explore the island on your own.

There are a wide assortment of shore excursions in St Lucia that you can choose from on our island tours. Click here to be directed to our realstluciatours web site where you can learn much more about our economical shore excursions offered at a great value as compared to those offered by your cruise ship. The ball is in your court; you will decide what to do and what you want to see on your St. Lucia cruise.

So don't wait, let's start working on your St. Lucia adventure today! We are just a click away. Just contact us at realstluciatours.com, give us the basic information and we will do the rest. I can assure you that you will not regret it and you will return sooner rather than later. See you soon.